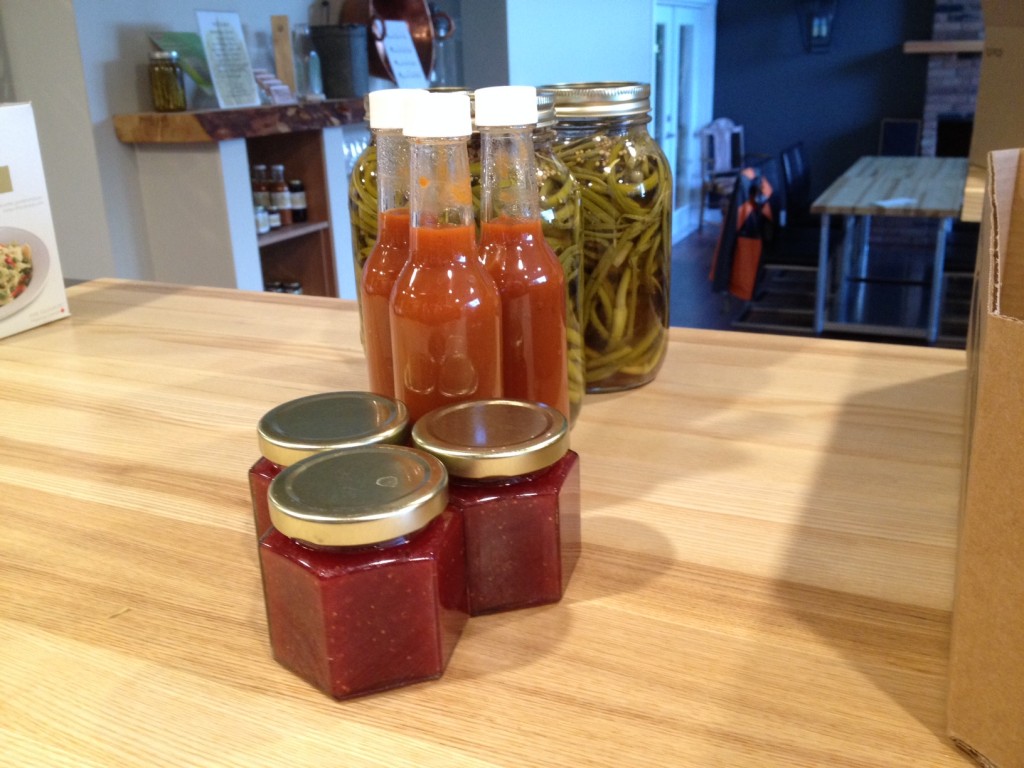 A rainy day calls for a little preserving romance…
It was time to break the new kitchen in, so I decided to jar the last of the hot sauce until heirloom tomato season is upon us yet again. Only 4 cases left until I tap into the reserves of beautifully ripened tomatos we froze in the fall of last year. Those of you who have become fans of my hot sauce will appreciate that it is a bit of a hot commodity these days! I also received a bounty of garlic scapes, the small tender shoot of the garlic plant-pickles really nicely so I decided to capitalize on the short availability and processed 12 pounds of these beauties. It was much like trying to jam snakes into a jar, but the end result is a wonderful accompaniment to a charcuterie plate with some friends and a nice bottle of vino….
To finish off the day of processing, I have some organic local strawberries just itching to make themselves into jam. So with a few simple ingredients, I have a few jars of a simple tribute to my love of the strawberry. Just a hint of lavender is sure to cause a few morning smiles, smeared on a piece of sourdough toast paired with your morning coffee……..
And so the season kicks off! It has been a whirlwind few weeks after the launch and I am humbled by the clients who have enjoyed the first few chef's table evenings. As you have hopefully discovered, the website calendar offers an inside scoop into the upcoming events, as well as available dates for your very own chef's table evening or culinary workshop. Please contact me should you be interested in booking an evening with us on an available date.
And so the cherries are plumping up nicely, getting ready for the start of some serious picking! Looking forward to what looks to be an amazing cherry crop, certain to make their way onto some menus within the next week or two….
Might be looking for a few hands to join in the cherry picking tom foolery.