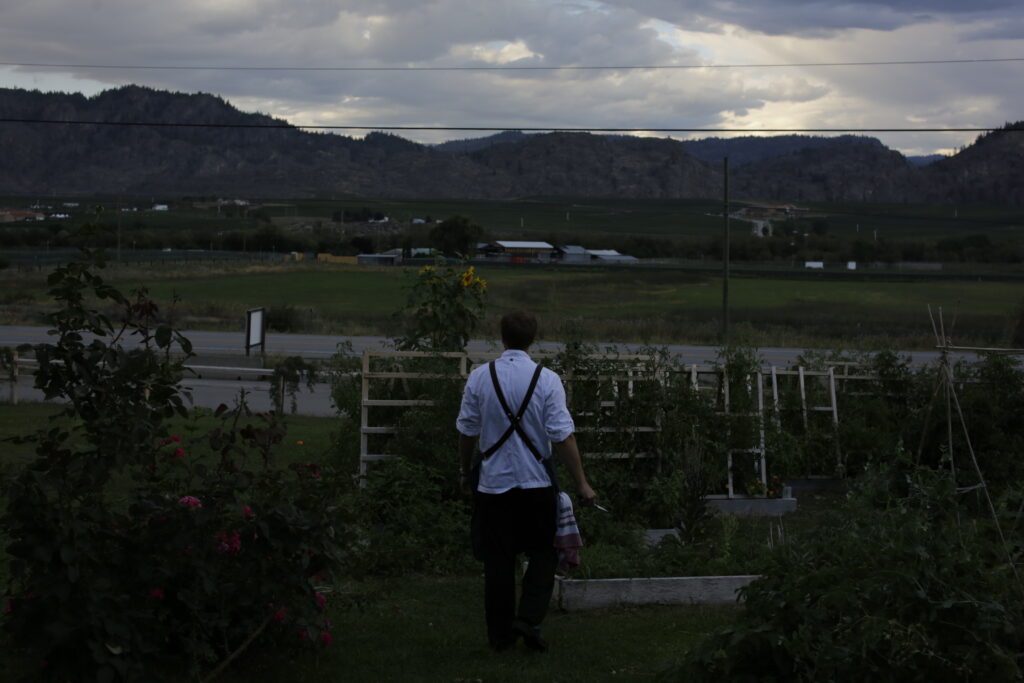 Cooler evening fall temperatures give way to a sense of reflection. Indeed the summer is a "grind" for all those in a seasonal environment, as the support of tourism brings forth events, bursting farm culture and the rise of "head down" to focus on the tasks at hand.
We, at Backyard Farm have a unique opportunity in our intimate space to showcase our passion and dedication to food and dining culture to a wealth of loyal clients and winery partners. There has never been a shortage of praise, nor recognition for the effort our small team of service and culinary members' collective efforts. We are grateful, to say the least, for the opportunity to cook for those who wait with anticipation to join us and experience what our region and farm has to offer.
For 27 years, I have been a cook. I have spent time in many kitchens, with so much talent. It is the culmination of these experiences that led to this passion project, with an emphasis in the pursuit of excellence, meeting expectations and focusing on connecting people to food. The accolades never get lost on us, rather inspire us to strive to do better, elevate the experience, and share our stories fo the people behind the food with a sense of place. We are after all , located in one of the most beautiful places in the world, full of opportunity and possibility. It has never been a function of us "out doing", rather a matter of allowing our guests and clients to be immersed in their time around the table, with their friends and family or otherwise without the distraction of time. Time is valuable, and our days fly by at a feverish pace, with not enough hours for what needs to get accomplished. We have resigned ourselves to just pushing as much as we can, but every peach on the ground, or overweighted branch feels like a small failure. Perhaps it is a bit more difficult for those who may be aware of the bustle of the industry, the thought and measures taken to seek a quality minded approach is hard to express to those who haven't experienced it.
Trails were blazed long before I came up in the industry, bringing well deserved recognition to the industry in our wonderful country, and it are these trails that opened the door for my pursuit in carving my own path with Backyard Farm. It has afforded me the opportunity to forge a livelihood, marrying family, farm and hospitality on this piece of paradise we call home. As I look at my past,(for a change), and into the undetermined future, considering the culinary trailblazers that brought excitement and interest on the world stage for the Canadian Culinary Industry helped shape the cook I have become. With this said, one of those trailblazers joined us (somewhat unannounced), a few weeks ago for a culinary experience at Backyard Farm. Our team was enlightened that a reputable chef would be joining them, upon dropping their wine off for the evening; it was not disclosed who it would be. Our intention has always been to treat every guest the same, as a VIP, and offer the same experience regardless of who they are, or where they come from. We have always honoured our guests with the same experience as everyone would enjoy, believing the true meaning of hospitality lives within this approach. To our delight, Chef Rob Feenie was in attendance, and he was not only gracious and approachable, but also very forward in recognizing the efforts of every one of our team. Perhaps the impact was most pronounced in his words to the upcoming talent in the kitchen, but it certainly was not lost on me. My hope was that we managed to inspire someone who has inspired me, and I think the speech speaks for itself.
I finish this post with an emphasis on how important it is to recognize that we never truly know who we are serving or cooking for. We need to be true to ourselves, to our intentions. We should all put our best foot forward on any given day, after-all, you never really know who may enjoying your craft at any given time. And does it matter if you are just doing your thing, and doing it to the best of your ability? What is worth doing if you don't try to do the best you can…….And what good is sharing an experience if it isn't authentic?