Bring on Spring at the Farm!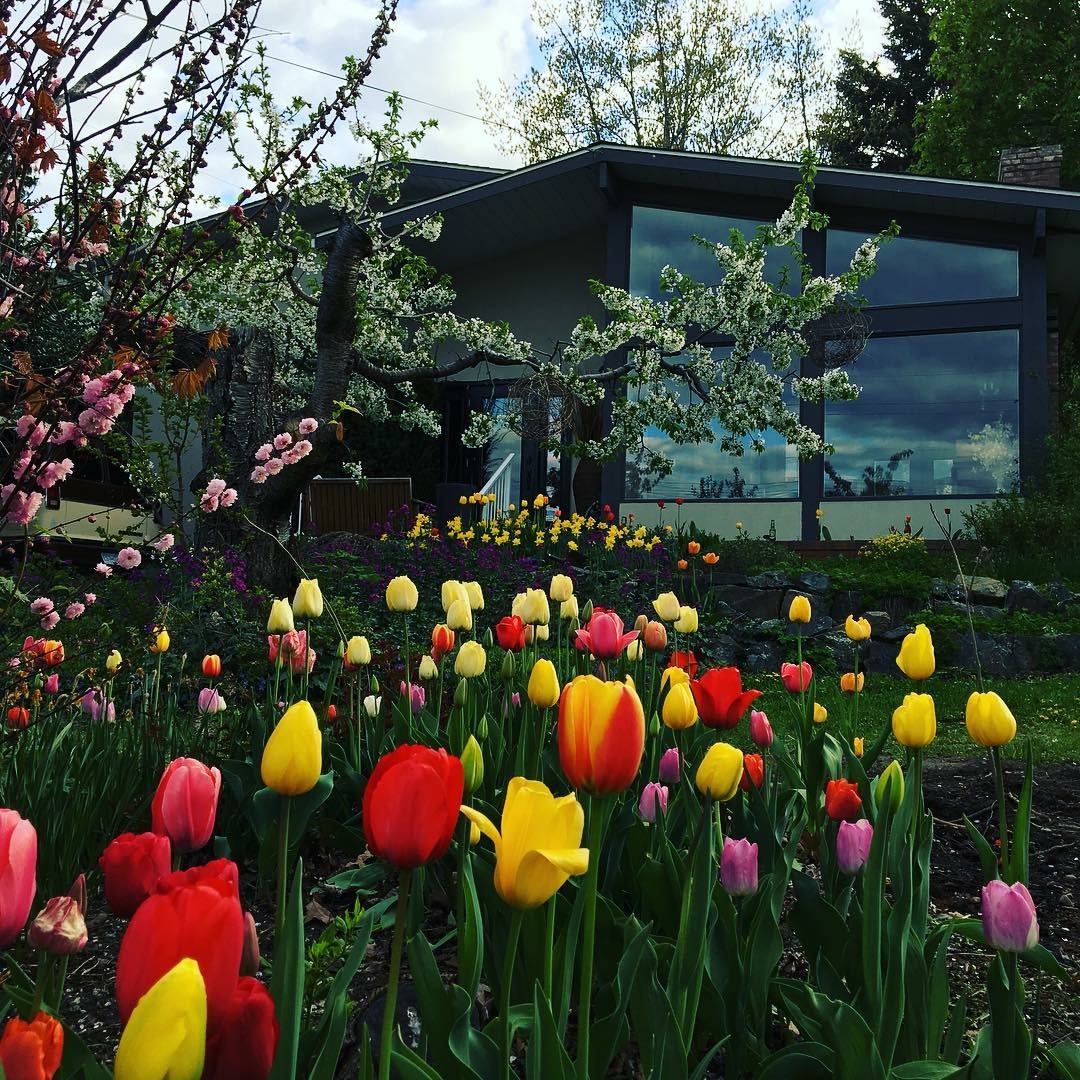 Yet another year has come and gone, seemingly always quicker than the last! Mikkel and I are convinced that having children around speeds things up immensely….and apparently I don't relax and sit still very well.
We started the 2018 season with bringing our youngest daughter into the world in March, and Baker has just started walking(at only 9 months old). Wishing we could extend her "babiness" a bit longer doesn't look like much of a possibility, and it brings forward a stark reminder of how quickly time goes by. Ainsley just turned 4 last week, and we figure she is the catalyst,  her little sister trying to catch up to her all the time! Really exciting in thinking of the future for the girls at the farm, Mikkel and I have extended the list of future plans to include a little sun tea and fruit sales shack at the bottom of the property to start their entrepreneurship nice and early-in a couple of years of course..
It certainly was a transitional year for us, and my focus in the beginning was to really strive and find the "balance in life" most of us yearn for. I was kind of successful, although the pressures of life as an entrepreneur typically meant being a bit busier than anticipated for the bulk of peak season. That said, 2018 was the first year that I booked 2 days off per week, and it was the smartest thing I have done! At the very least, it gave us 2 dedicated days per week for shorter orchard work days, family dinners, bedtime stories,  and quasi-rest days. I can thank my father for that suggestion, and it is one that will remain for the future.
The evolution of the farm has included expanding what we grow on site for 2019. We cleared an under-utilized space for ground crops, and we will be planting a few things not available from our primary farming partners. It is also the first year that our bees have stayed through the winter, which means they will be here to pollinate our own orchard, and from the beginning of blossom set! We couldn't be more excited, the honey comb was just outstanding, and having the bees buzzing around in the spring really gets us excited! I shouldn't forget to mention that a 12 year dream came true for me in late October, when an unbelievably generous  friend made a brand new tractor appear on the property-I can't wait to get outside and start the lengthy list of projects and landscaping we have always wanted to do, but couldn't…Frankly it just opens up a whole other list of future possibilities with development, of course while having fun….
Yet again, 2018 saw a very large percentage of return guests and clients. It is always such a pleasure to welcome return guests to the farm, and in fact is likely the most significant inspiration for evolving our food program. It is no small feat to write tailored menus for those who join us every season, let alone numerous times per season, and we take pride in continuing to enhance our menus and keep it different for each visit. We accept this challenge, and it has driven us as a culinary team to evolve. I can safely say, without hesitation, that 2018 was the most thoughtful, creative and well prepared food in my 22 year career. Certainly lots of room for growth, so don't expect us to get complacent! We will continue to strive for excellence in 2019……
Jack and Kyle continue to learn, experiment and grow as ambitious cooks. Without question, their passion and dedication to their craft and our business is palpable. The strength of our very exclusive team continues to grow with the countless hours we spend together, in true kitchen form, much more time than we spend with our friends and family. I credit much of the seasons' success to their immense efforts, and I can boast that they have not had one sick day, not one late day, and continue to impress me with their dedication, accountability, creativity and passion. I can assure you as i sit here, that after so many years in the industry, to find two employees that were so easy to accept into our family is a rarity. I trust them implicitly, never take them for granted, and look forward to watching their personal and professional growth for years to come. It also must be mentioned that we are also so incredibly fortunate to have some amazing "limelighter" service staff working with us. If you have joined us at the farm, or at many of our events, you surely can recognize the effort in representing our business, family and future through our very professional service staff members. Many of which set aside weekend time, or family time to help us out-we make sure they have fun, are well respected and appreciated and fairly compensated for their time and effort, as we would not be anywhere near successful without the service to represent the experience as a whole. Always looking to fill out our "on-call" hospitality team roster, so please get in touch if you may be interested in joining us this season.
We have used 2018 as a testing ground for a few ideas, and additions to our culinary services as well. Many will need to be adjusted, or re thought, but the essence of entrepreneurship is the opportunity to "keep things fresh" so to speak. Once we finish freshening up the Backyard farm kitchen with some tile work and new flooring, I will return to "spring thinking", and look deeper into some of the ideas we have to expand our offerings. Stay tuned for more details as I move forward, but I am still considering shoulder season brunches, just need to assess the endless future possibilities. For the sake of keeping our experience approachable and affordable, we will keep our pricing and minimums the same for the 2019 season, and re-assess our costs for the 2020 season.
We are continuing our development plans, keeping things manageable for us financially, and keeping with our priority of being a family oriented business. I am anxious to get the outdoor dining area started (and finished for that matter), but this is a long term project and Mikkel and I aren't in a rush. It is likely we will start looking at a budget for the project, and I will spend a bit of visionary time in the spring sketching the "master plan". To be honest, it is pretty amazing to be embarking on our 6th season of business with so many future plans on the horizon. Endless opportunities truly inspire hard work, and this phase of Backyard Farm will allow us to offer outdoor, orchard dining for our guests in the future. We have had much interest from some of our clients to help us with this project, and it is likely we will take a few of them up on the offer-just not this year. Time and money are hard to come by, but you can always make more money-we decided to enjoy the short time the girls will be little…..This project aside, we have already created a new ground crop area to grow more food int he interim, continuing our plan to be as self sufficient as possible, while still supporting those farming and producer partners who have been such a huge part of our success thus far. Likely we will be doing some significant landscaping projects this spring, so stay tuned on our social media pages.
So as we are a few weeks from officially launching our 2019 season, we are getting really excited! We have a few new winery events in the final stages of confirming, and our booking schedule is shaping up to be the best season yet. Our team is chomping at the bit to get back into our shiny new kitchen for another season of inspired food, farm and family for our clients and guests. Please get in touch with us if you are looking to book a private event, as peak season dates are booking rather quickly. Our calendar page is updated as events are received and confirmed-please be aware that we may be inclined to take lunch and dinner bookings on our available days, so do not hesitate to inquire about the opportunity to join us, even if the date looks booked on our calendar.
As our 6th season commences, we would like to send out a heartfelt thank you to all of you who are reading this. Your interest and support in Backyard Farm has allowed us to make our dream a very inspiring reality. We will continue to strive for excellence in the culinary and hospitality industry, and go to sleep every night knowing that we did the best job we can, each and every day, and for each and every client. We look forward to sharing our stories of passion, life,  love and the future of the farm with you for 2019. May this year be all you hope for, and more!
Chris, Mikkel, Mo, Kyle, Jack our service team and family.