A much anticipated cherry season is in full swing….. The bounty of our modest 2 acres has most certainly shown its full potential, the trees are sagging with its bounty. That said-organic cherries anyone???
It certainly was the month of many "firsts". With the health board inspection completed, the very next day hosted a private cooking class for 5 local ladies. It was so rewarding after the 6 months of hard work to cook in my new kitchen. Trial and error always prevails, and I managed to move most things numerous times trying to find the most suitable home for them all. Simply stunning the amount of gear I have accumulated over the years……to the tune of 6 truck loads….The class was so much fun, and I have since done a gig or two for them. The first week brought a film crew from a show called "Wild Food", set to air on APTN, sometime next spring. We filmed two episodes, and I had the opportunity to work with a great group of people in the crew-I am humbled for the opportunity to have shared my Chef's Dream with them all. I am also looking forward to the results of everyone's hard work. Shortly thereafter, I hosted a FAM tour with some food and travel writers. We tied in a brief cooking class with a wine paired dinner for them, and they were treated to a co host in Bertus Albertyn of Maverick Estate Winery. He is a good friend and fellow food and wine lover, lives two properties away and brought with him a few wines yet to have been bottled. What an evening! It was the best way to spend my first saturday in the "Backyard Farm" kitchen, surrounded by friends, food lovers and some of the best wines in the area. If you haven't tried any Maverick wines, visit the website(www.maverickwine.ca) and soon-to-be opened wine tasting shop right around the corner. I am most certain you will enjoy your experience with them. I look forward to our next food and wine adventure together. And so the month flew by with a busy mix of offsite catering gigs, some private chefs table dinners and cooking classes. The new space is working out better than I could have ever imagined, and is an absolute tribute to the vision and efforts of many.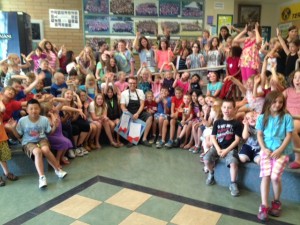 With the month of firsts, the last day of a very inspiring project has come and gone. The kids at Tuc El Nuit Elementary send me off with a card signed by all of those who enjoyed the salad bar program two days a week since I started in January. After the better part of 20 years in the culinary industry, these kids offered me an opportunity to look at food in a much different manner than I was used to. Critics?Yes. Kids don't pull many punches when it comes to critiquing the food they eat-luckily it was a rare occurrence to hear much more than accolades and receive a few high fives. I am really proud to have been invited by Principal Foster to help with his dedication in bringing  healthier food to his school. I decided to use this opportunity as a marketing expense this year, taking the entire budget and spending it on fresh, local produce when possible, and free range, hormone free meats from my supplier Two Rivers. Mikkel and I spent Tuesday evenings together in the kitchen prepping wholesome food for the kids, and perhaps inspiring a bit more conversation at home about food-not to mention a bit more of an adventurous palate for mom or dad's cooking! The menu was tamed to kid approval standards, and the response was incredible, with many kids trying new things, and coming back for seconds, thirds and sometimes fourths…The kindergarten kids were certainly the cutest-it was decided that they should get to pick their own salad bar items. By the end of the first rotation, they were coming up exuding confidence, excitement and learning independence on a small scale. As September creeps closer, I hope it becomes a possibility to be involved again Regardless,  I am thrilled to have been a part for this year, and hope the interest in healthy food options increase in our schools. I cannot think of a better cause to donate my time and budget towards this year!
Truly it has been a quick month, and there are many other exciting things happening around the farm. The website has been launched and I am very pleased with the results. Prior to launch I decided to leave dates open in the summer able to host guests for  private workshops or chefs table dinners. If you take a look at the calender page, you can get a sneak peek at upcoming events open to the public, as well as open dates to book your very own culinary experience at Backyard Farm Chef's Table. Private dining for up to 20, tailored menus,wine purchased on a recent tour or from your own cellar, set in the middle of lush vineyard and heritage orchard fruit trees-a summer evening in the South Okanagan to remember…..  Whether it is a dinner with one of our winery partner's such as RD 13 for the summer\fall dinner series, or the Blue Mountain Harvest Dinner in September, I can be found providing tailored private chef services and workshops off site as well. If you may be interested in booking an available date, contact me directly(chris@backyard-farm.ca) and we can discuss menu development, pricing, wine pairing suggestions and further details. I look forward to hosting you on our little slice of South Okanagan paradise……