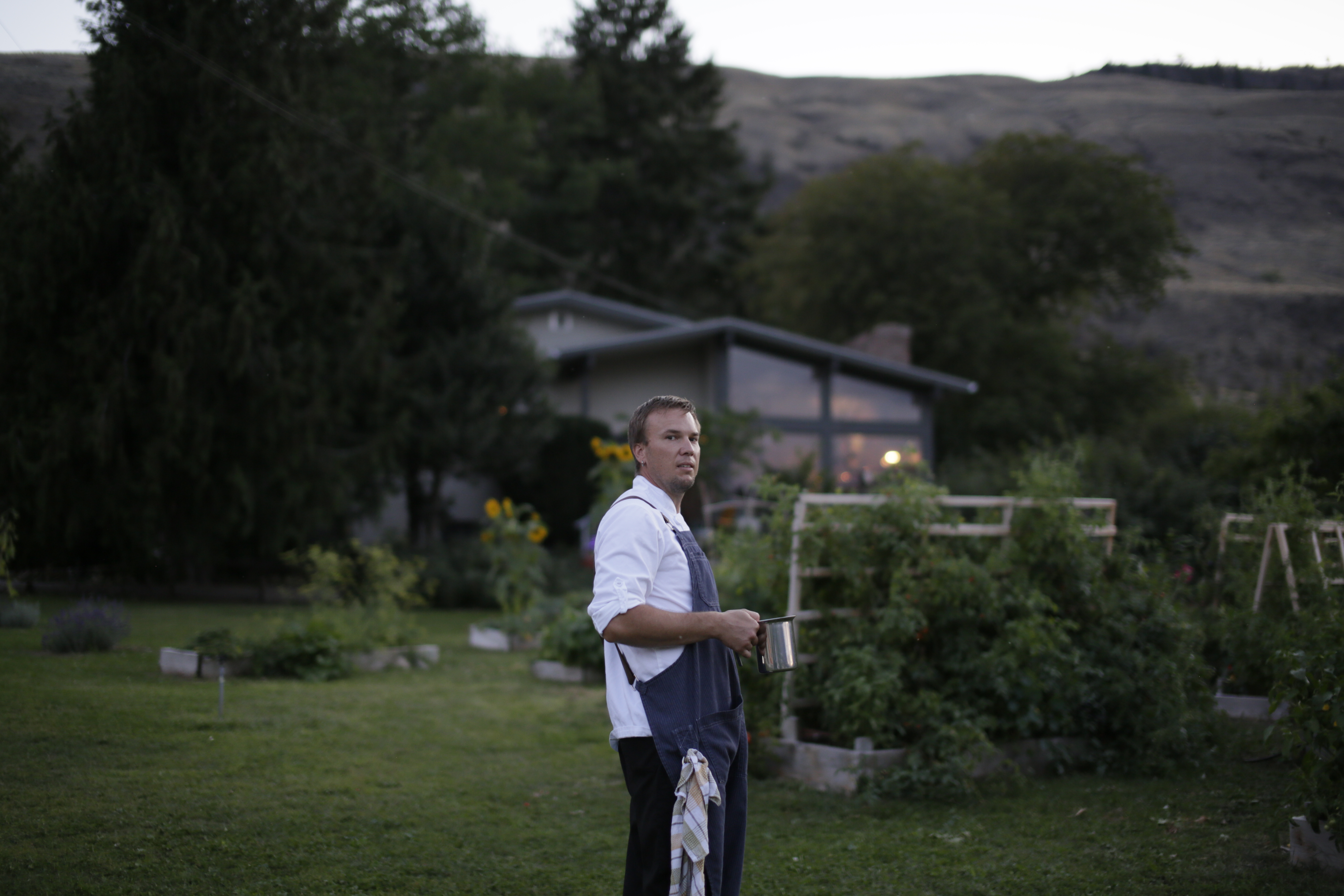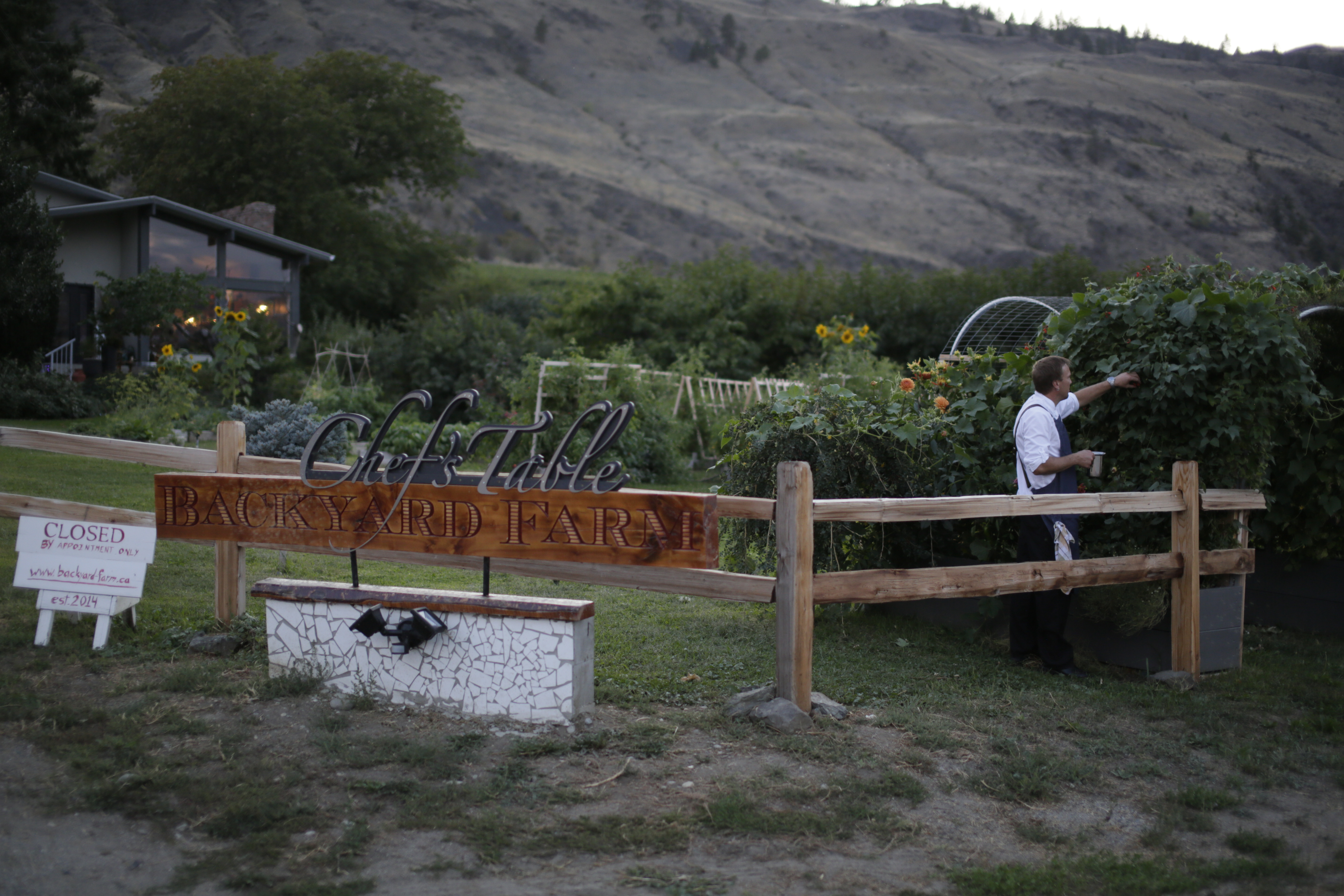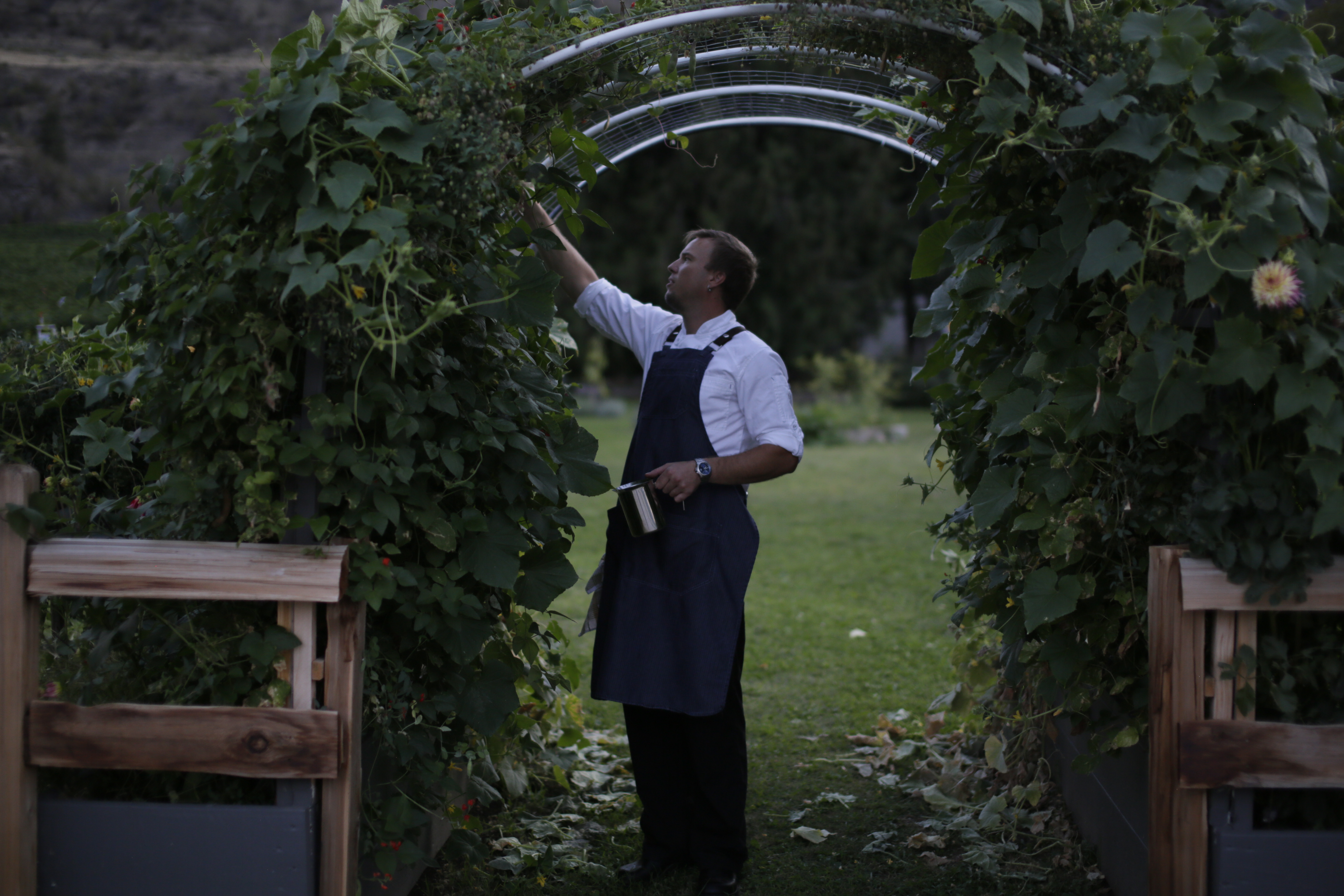 Photo Credit to Hollis Roberts
Rather hard to believe we just finished the harvesting of our last beets, celery root, and apples making way for hibernation time soon at Backyard Farm. Needless to say, we are still busy with 3 or so bookings per week, holiday parties, preserving and looking into another very exciting season at Backyard Farm. We have had such an amazing season, although yet again it feels as though it went by just too fast! Our team has had a few new members join us, allowing our food style and preparation to be elevated, something that will continue for the future, as we manage our growth while striving to maintain our high standards for quality in all aspects of hospitality. Our wealth of clients have shown continued loyalty, and we yet again saw 80%(conservatively) return bookings this season, which beyond things like revenue, sales and profit, shows that we have achieved what success means to us, and instills confidence in a very bright and rewarding future for our team and family. With a long list of development on the horizon, we are exploring the next phases of Backyard Farm, and setting forth plans to continue expanding our ever-growing list of produce grown here, and hoping to get plans for the outdoor dining space started possibly in the spring. No rush for us though, as our long term vision for Backyard Farm means enjoying our time with the family while they are little. We value time above and beyond the almighty dollar as you just cant get time back, can always make more money,  and we should all focus more on spending our time more wisely-life is just too short! The truth is, kids change so quickly, and I don't want to miss out! We continually try to put people and efforts in place to bring a bit more balance in life, and the 2019 season brought a bit more of it to us. Most importantly, we had so much fun in the kitchen, and on the farm, truly this was the best, and busiest season yet!
And as we look at the last 5 weeks of the season coming at us, the glimpse into next season begins. We will be closing for 6 weeks(January 1st-Feb 14), with our first official event being a Valentines themed dinner at Road 13 Winery. We have yet to confirm the details, and will revise and update our "events" page for the 2020 season in the early new year. As with this year, we anticipate our winery events to sell out really quickly, so be sure to check in and book your tickets through our event partners as soon as you can!
Further to this, our calendar for private bookings and private chef services is filling in really quickly. As I sat in "email land" this week responding to inquiries, I realized that we are booking much earlier than anticipated! With so many lovely people we look forward to cooking with and for, we want to make sure you have the opportunity to book with us before we must start our wait list……Sadly, it is rare to have any cancellations, so we are reaching out to remind those of you who would like to enjoy a private culinary experience at Backyard Farm, or our Private Chef Services and Catering services to look at our availability a bit sooner than seasons' past. Those of you whom have been "food-loving" followers of ours will remember saying that success to me would mean a 1 year waiting list, and it looks like it is happening soon for peak season dates. Never worry though, as the South Okanagan is so beautiful in the Spring and Fall, we encourage our clients to visit earlier and later in the season for sure! Aside from our 6 week "Rest, Research and Recovery" time, we are open and available pretty much year round for tailored culinary services and experiences. We will be assessing our 2020 pricing guidelines and minimums upon completion of our year end, as we will likely need to reflect our increased food costs, and to make sure we can continue to fairly compensate our very hard working culinary and service staff team for their efforts. We haven't looked at a price adjustment in over 3 years, and in order to continue offering the quality we strive for, it has come at increased costs year after year it seems. We simply are not interested in sacrificing the quality of the ingredients we grow and use-free-range, additive free meats are getting increasingly expensive! Furthermore, great staff are very hard to find, and we want to be certain that we can share in our success by compensating them more than fairly, as they are the backbone of our business! We will be sure to forward the 2020 pricing updates as requested, once we move into the new year.
So as we look at the end of November here at the farm, we should note that there are still a couple dates available during holiday season. As always, the calendar is updated daily, or as bookings are confirmed-and we can book as far into the future as you wish, including 2121 and beyond, so you can guarantee a seat at our table in future seasons with a little planning! Check out the calendar page for our availability.
We look forward to sharing some exciting upcoming events with you, we will keep you updated as we confirm them. Further to this, we are patiently awaiting news of the final edits for the Nat Geo filming that happened in October, likely to be released in the early new year. We may even look at a very exclusive viewing at the farm, but we will see what comes of it. Also, we will be continuing our R&D and mentorship in the kitchen during our winter prep days and events-may even have a few "Socials" at the farm, opening up to the public for a cup of coffee and some retail preserves shopping before we take a few days off for Christmas. We will be sure to send out a blitz on Social Media with dates as we look at our schedule. Likely we will have some Sourdough Bagels and Cinnamon Buns fresh from the oven, along with cups of Wolf Tree Coffee to purchase while you peruse our shelves-we have been working hard at stocking the shelves for next season, and have a long list of offerings not found on shelves anywhere else. Also, we have decided to make some handcrafted filled chocolates(all made in house) with Cluizel Chocolate of course, just awaiting boxes to arrive next week. Still need to figure out the costing and pack sizes, but figured we may as well do a little chocolate work since we love it so much, and it seems like a great idea for this time of year………….
Thanks to all who are following our Backyard Farm adventures! Truly we are so grateful for the opportunity to do what we love, while raising our family from our little slice of farm paradise. Truly, it is your support that makes it all possible. I just can't wait to see where we will be in another season, but for all of the unknowns, I know we will be challenged, inspired, motivated and fulfilled. I should also mention that work on the very first Backyard Farm book will be commencing this winter, a project I have been excited about for a few years now, and had numerous inquiries this season. More to come on that though later…..Hope to see you soon!
Chris, Mikkel, Mo, Jack, Kyle, Brie and Max, Baker and Ainsley.