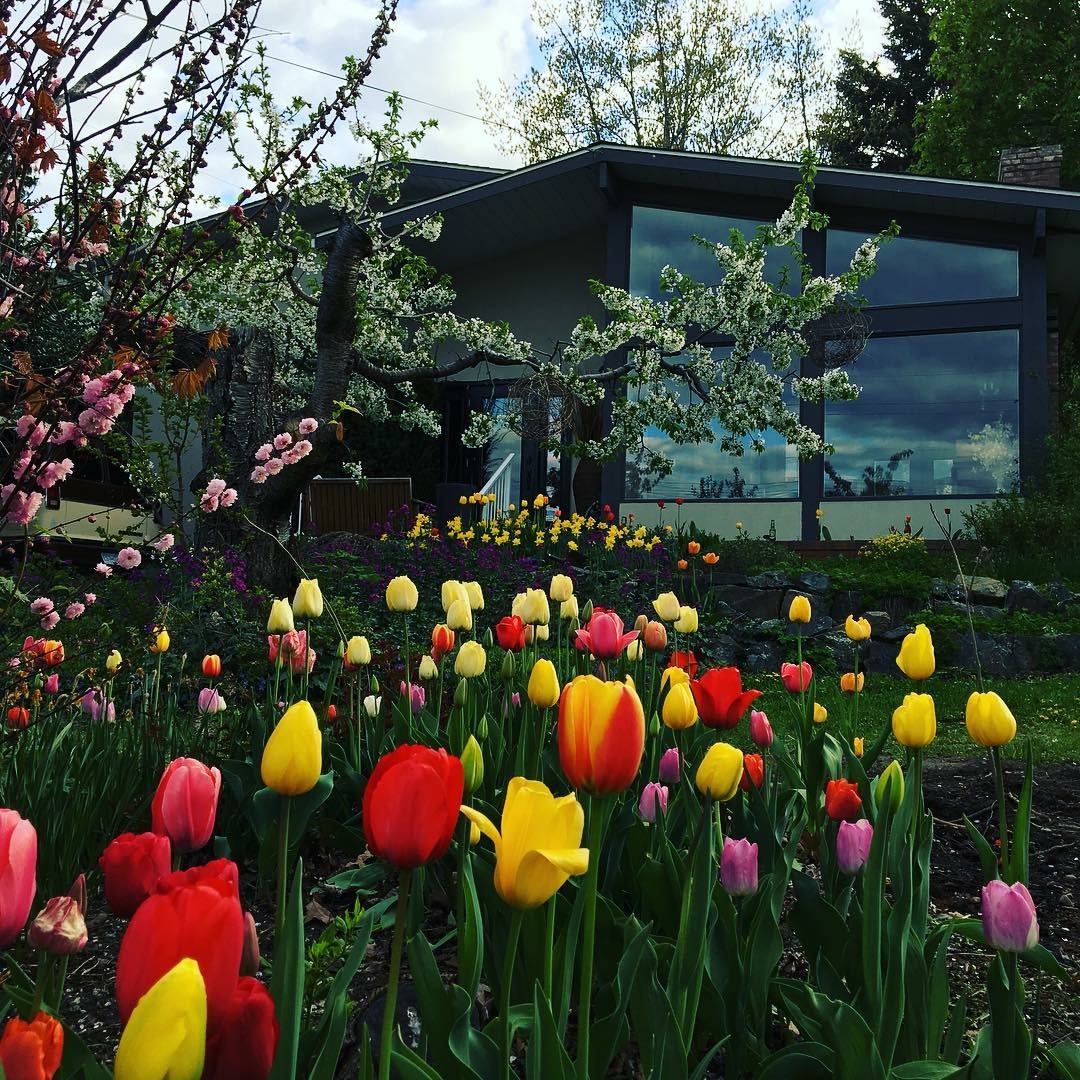 After a bit longer than anticipated spring, it appears that it has arrived in our beautiful region. Truly anticipated, as the grey skies turn to sunshine, and the trees come out of dormancy, bringing blossoms and fruit set. This upcoming week, we will be planting the large array of Backyard Farm produce, which inevitably will find its' way onto future menus for our clients. Very exciting times, and much anticipated after a bit longer of a winter hiatus than usual for our growing family and business-and for good reason! On March 18th, Mikkel, Ainsley and I welcomed a beautiful, healthy(and organic) baby girl. Our new little addition has already added to our inspired approach in growing more food, living our farm to table lifestyle, while striving for balance in life, business and building a bright, sustainable future for our family. In making priority of family time this year, we have decided to be closed for orchard work and family time Mondays and Tuesdays, with the ability to make exceptions when possible dependent on our ability to book a "day in lieu".
Following our pursuit of a more self sufficient means of life and business, we built another 5 large raised beds. In addition, I repurposed an old tent trailer, and built a "Chickshaw". This will be found moving about the orchard all summer long, so our Rare Heritage breed laying chickens can contribute to a natural means of pest control, fertilizing and eating the culls that are inevitable when you pick tree ripened fruit. To be honest, their entertainment value is a large part of locating them closer to the bottom farm, for our guests to enjoy watching me (try to) put them to bed during a dinner service at our private chef's table….This tends to be an exercise in hilarity if they aren't quite ready to get inside for the night! We may look at expanding the flock and letting some of our hens hatch some chicks, so stay tuned!
Further to this, Kyle and I just finished building a large enclosure for 6 bee hives to join the farm again this season.  Apparently Kevin and Janelle from Okanagan Wildbrush Honey likened our handy work to Fort Knox, and there is a very likely possibility we will be able to over winter some hives for the first time this year. In addition, we will continue learning how to care for bees, and our guests will very likely be enjoying some authentic Backyard Farm honey comb on menus this season yet again.
So as the busy season is upon us, we are really excited for the evolution of our menu development. Jack, Kyle and I are thrilled to be back in the kitchen, and our most recent events have proven evolution in our creativity as an intimate and tightly knit culinary team. Many guests have noted the obvious passion we possess for our craft, re-affirming how lucky we feel to have these two gentleman involved in our family, farm and business. We are looking forward to the opportunity in sharing a culinary experience with our team to our many return clients, as well as first time guests! Much like the last few seasons, only a few choice dates are left for June, July and August but we certainly would love to fill these dates, and get our roster full for September and October, not to mention taking holiday party bookings! If you are interested in our availability, please visit the Calendar Page, it is updated as we confirm bookings. For further details about our private culinary demonstrations, workshops, private chef services and restaurant consulting and mentorship, send us an email and we will be happy to discuss opportunities further, as well as forward our pricing guidelines. Our email is chris@backyard-farm.ca
And lastly, we are so incredibly humbled for the inclusion to an article recently published in Western Living Magazine. To be recognized for our efforts as one of the 7 Gastronomic Experiences in BC worth travelling for is quite an honour! Please follow the link to see the article, and the other fantastic places to visit for a unique culinary experience.
http://westernliving.ca/travel/7-gastronomic-experiences-bc/
We hope to see you this season, and wish you a happy spring from our family and team!