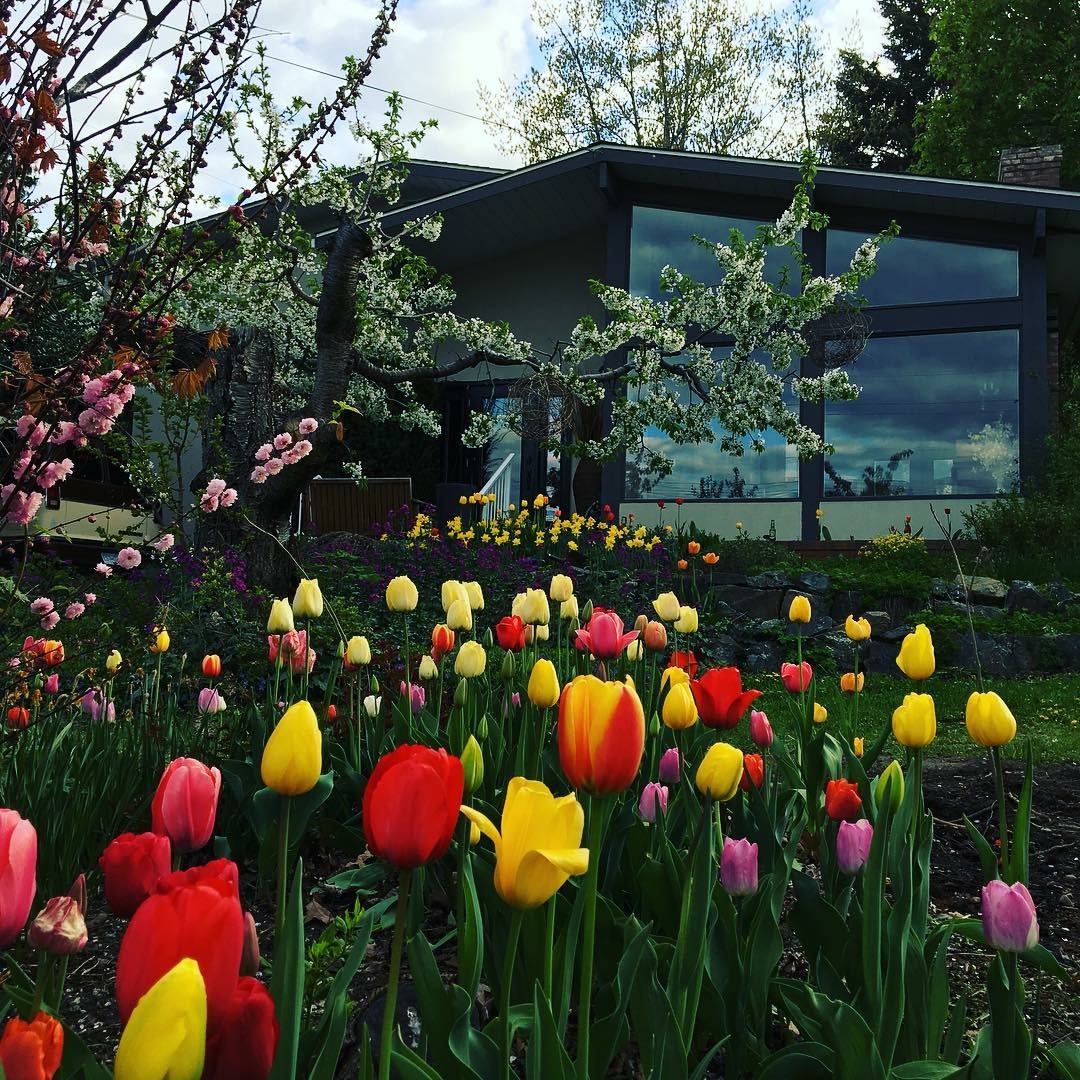 Pretty soon(like a week or so) this is what will be seen out the front of the dining room as it sits idle,  a true tribute to my proud dutch heritage and my favorite part of the season. The grey of winter disappears making way for the colors of spring at the farm.
Might want to grab a coffee or a glass of wine for this, it is a bit long winded……
Spring is here, and after a long anticipated March re-open, the restaurant industry was hit with another public health order hindering our ability to host indoor dining for our collective guests and patrons. Our excitement in turning the page on the 2020 season was sadly met with confusion, uncertainty and frustration with the "last minute" approach to the announcement. Many of our peers, friends and colleagues have made swift adjustments to offer patio and outdoor seating swiftly, while others (like us), were made to consider the economics of the "Take Away" model versus complete closure (hopefully for only 3 weeks). Thankfully, we only had to cancel a few bookings thus far as it is very early in the season, but it still leaves worry about how long it may take to get back to hosting small groups in our dining room, or what the future may hold for winery events and gatherings this summer. Those of you who know us are aware of our approach to what we have built at Backyard Farm. Simply, we designed our business to offer exclusive, tailored and quality driven culinary experiences for our guests. We are not open to the public, and our calendar for peak season is typically full 6-8 months in advance. We spend much time and attention to detail in sourcing our ingredients from our local sustainable faming partners and producers, with a large amount of menu development derived from our 2 acre farm itself. This is a passion project for us, offering the ability to support our team, lifestyle and family, inspired by the unique opportunity to truly connect with everyone that comes through our doors-and break even from the standpoint of profitability in even our best season. Our thought is to place more value on time as it shouldn't be wasted, you cant get it back, and you can always make more money. We strive to exceed expectations, focusing our efforts on the old adage that nothing is worth doing if you don't do it to the best of your ability. We love our craft, we enjoy every part of hospitality, and we have an unbelievable amount of respect and appreciation for those that help us make this dream work. Our family, our staff, our community, partners and clients all contribute to our success-for this we are truly grateful. The essence of what we do is based upon encouraging recognition for food and wine culture; paying respect and tribute to where our food comes from, who grows it, and the effort involved in both sourcing and preparing the wealth of bounty accessible to us all in our beautiful region. From a philosophical standpoint, we are firm in our belief that our connection with farm and table offers a unique ability to source our ingredients exclusively form ethical and sustainable means. Our intimacy means we get to share the stories directly with those seated at our table. It's magical. It's all that I ever hoped for, and so much more. I get to farm our land and witness in the seasons growth from pruning to blossom to fruit. I get to be more present for my family in a career not known for it all that often, and get to do so on my terms. Most importantly, I get to share my knowledge with up and coming talent that will help shape the future in our fragile food system, and culinary industry. I am so very happy that we are not alone in our endeavours. Many in our industry are championing the same things. Many are striving for more awareness, putting in extra effort in responsible sourcing knowing that many of our mutual client expectations are changing, and so is the recognition in the value of these terms. Truthfully, it is a very inspired time indeed, really just a matter of time for us to get through the current Covid situation.
From a personal standpoint, the last year was fraught with the inability to foresee changes in the way we, as many, are allowed to operate. To be honest, I am not one who makes or has much time for the "news" as it is, but Covid has meant that I have needed to be very much aware of the climate and what it means for our business. Being aware of changes in health orders, the case numbers and locations, along with the recommendations from our governing bodies has become pretty much a daily occurrence. I am certain most of us can relate to the wealth of information, prevalent negativity and speculation about what is right, wrong and otherwise is truly exhausting.  It is ,and has always been our priority to offer a clean, safe and thoughtfully prepared dining experience from the very beginning, and our already high standards were adjusted accordingly, and were minimal as outlined by BC Health directives for sanitation and cleanliness protocols. With all of this being said, we wholeheartedly understand and respect the recent proposed changes. Although it is hurting our business, and most in the industry, it is obvious that drastic measures must be taken if we want to see positive change in the rates of infection, and the ability for restrictions to be lessened. I have no desire to put my family, our staff or clients in any unnecessary risk, as we can only control our own actions while trusting that our clients and the public are considering that these decisions are not taken lightly by those that must make them. As this is a worldwide unprecedented situation, there really isn't any history to base decisions upon. Regardless of personal views and opinions, the right thing to do is set aside the frustration and make adjustments with the hope that our collective efforts will cause a positive change in the situation, and we can move on and in a direction that brings back the things in life we have all longed for. We are all hurting in some way, missing things and people in our lives, and it is growing tiresome without question. The inability for me to operate the unique business we have built in the way it was designed to operate has taken a large toll in my psyche, and I know for certain I am far from alone in this. Assuming I am "preaching to the choir" so to speak, let's switch off from the doom and gloom, after all it has become evermore common, much more than we need it to be.
We won't concede to the things we can't control, rather focus on the things that we can. So what are we going to do to mitigate the hinderance on our operations? We are going to focus on opportunity. Opportunity is around us, only we need to imagine it to seize it. We have seen such an amazing amount of support from the wealth of followers and clients. What we need is to do all we can to take care of our family and team to get through this and move on.  The premise of design at Backyard Farm  was meant to be about refinement rather than production, as we have seen challenges in our Meal Kits limited availability. It is a reality, but not one that warrants short term investment. Our meal kit offerings have given us the ability to support Kyle and soon will help to support our newest culinary team member Claire. The reality of the costly economics has been overshadowed by the opportunity to use this time as a platform to train, experiment, develop and maintain our hustle while we wait to return to our season as was originally expected. We very much love sharing our passion and food with people, and this gives us a temporary outlet to do so. We will continue with posting the menu and give first opportunity for the limited number of meal kits to our Friends Of The Farm list. If you aren't on the list, send us an email so we can add you! Not only will the friends list offer a first opportunity to get your hands on food from our kitchen to yours, but also serves as an opportunity to share in upcoming events and a few experimental ideas we may add to our schedule. Email us if you are interested at info@backyard-farm.ca. Backyard Farm Menus will be emailed on Monday or Tuesday at noon, and you will receive a link to the form to get your hands on it. Pickup is on Saturdays, with an opportunity to grab a few things from the shelves of our handcrafted preserves, an extension of our farm to your pantry or condiment shelf at home. We have also been providing interested people with pre-ordered Italian Plum Whole Wheat Natural Ferment Sourdough Bread derived from our 8 year old plum starter, and our Himrod Grape Sourdough Bagels. A few days notice(schedule dependent), and we are happy to bake a custom order-you may also hear of some croissant and kitchen pastry experiments as well…. The starters need to be fed at least a few times a week, so this is a great means of keeping them healthy and happy until they are used to bake fresh bread for our clients for every booking. And finally, we are offering "Contactless Catering" as another option. We have adjusted our private chef services and catering to reflect an opportunity to offer multi-course menus for either pick up or delivery(for a fee), a bit simpler fare to enable clients to arrange a meal handcrafted by us in their home, or backyard. Menus will still be fresh, handcrafted and seasonal while being tailored specific to client needs. We have a minimum of 6 people(priced per person), and will work directly with you to develop the menu. You can send us an email for our pricing and further information regarding this. Once we see Covid restrictions be reasonably lifted, we will continue our private chef services and full service catering. For now, we do not feel that it is in our best interest to have our staff in private residences given that we cannot control social distancing or sanitation for the safety and security of our staff. We do have a few options to make things easy and enjoyable while taking most of the work out of it for you…..
Finally, (and what we are most excited about) is the finalization of phase two of our patio dining room. Many of you know that we finished phase one last summer, in the excavation and concrete pouring to make way for outdoor dining. The challenges of the 2020 season meant that we needed to consider the possibility of moving up our future plans for a patio space. Budgeting was necessary for obvious reasons, thus the project will be broken up into 3 phases. Phase two will hopefully be commencing shortly with a proposed finish by June 1st, in order to facilitate accommodating our currently full calendar of pre-booked culinary experiences for peak season. The uncertainty and limitations of only having indoor dining with 60% capacity and recognizing it is the same amount of work to host 12 guests as it is 20, and with half the revenue) made it very necessary to move  forward. The idea is to offer our 20 guest capacity in an outdoor setting amidst the hazelnut trees and surrounding orchard with the ability to practice social distancing requirements, maximum allowed table numbers and recognizing consumer comfort. It was always a part of the master plan at Backyard Farm, but we just expedited it. The furniture is purchased with the very same approach to unique and thoughtful quality furnishing and seating: essentially a very similar approach as our indoor dining room. The third phase likely finalized for the 2022 season will include an outdoor kitchen adding to the immersive appeal of involving our guests in the production of the evening or afternoon. This project has re-instated the wealth of opportunities we have to diversify our offerings whether it be for corporate retreats, private culinary experiences, food and wine seminars,  a food and wine culture education event series , exclusive winery events, or intimate weddings on site. By spacing out the project, and with the help of an amazing contractor, we have the ability to further grow this dream of ours, and continue building a bright future for our family and business. It will likely also offer us the ability to shrink our seasonality, which would be amazing! Stay tuned, as we will be updating on the progress via our social media and website forums. Although we have a very busy schedule this summer, there are a few dates available, reflected on our Calendar Page.  When you dream, you may as well dream big….
It goes without saying that we have all had to make seriously difficult adjustments in our daily lives due to the pandemic. We are all tired, stressed, anxious, frustrated, overwhelmed and worried. There is so much to consider during these unprecedented times, and often it is incredibly difficult to navigate through what the future has in store for us. Certainly we have lost much freedom in our daily lives, we have missed birthdays, visits, funerals, not to mention basic human contact and socializing. It's getting tougher by the day to maintain without letting a little hostility creep into ones' mind. I have been wrestling with much of this and have come to the conclusion that in order for us all to move past this, we need to respect what it is we must do to get through it and MOVE ON. Do I agree with it all, no. Is it fair, not necessarily. But respecting those who are in a role to make the hard decisions that knowingly affect society as a whole, and respecting how difficult their job is with the backlash is important. I wouldn't want to be the one knowingly shutting down businesses for what might be the last time due to these decisions. It certainly isn't a secret that small business is in peril. What I do know is that right now, no amount of disagreeing or going against the health orders is going to get us back to the things we miss any sooner. No amount of protest in mask wearing, political agenda, speculation and misinformation will change the course of what has been decided is the best means of getting a better handle on this virus. I can tell you that this has been the most challenging experience in my business and life, and I struggle with so much of the negativity and misinformation that we are exposed to. I also know that we have a unique opportunity can offer an incredibly safe dining environment for our clients and staff, with our strict protocols and exclusive private bookings only. I would never intentionally put my kids at risk knowing that I am inviting "strangers" into an extension of our home, and trusting that they too would not intentionally put us at risk. Even with this conviction, I simply will not be irresponsible and go against what is deemed best for the greater good, even when it means we will  struggle. I can only say that if we do our best to do our part for the respect of those around us, we may see a quicker return to the things we have all been missing. Let's just get this over with so we can look back and appreciate that our strength though adversity can overcome this. My business like many others has suffered greatly with absolutely no control over this situation, nor with the restrictions that have been imposed upon us. The restaurant industry has lost some amazing talent and places to enjoy food, libations and good company-lets not lose anymore. Let us all rally around our communities and support our local businesses to help them survive so we can all get back to"thriving".
Thanks to everyone who has taken interest in what we do, and invest in our future by supporting our efforts. It sure is helpful knowing how many people have us in their thoughts and hearts. This weekend we decided to focus our energy on the farm, and our family , knowing that soon the time will come to focus on creating memories for others. Have a beautiful Easter weekend, from our family to yours.
Sincerely,
Chris, Mikkel, Ainsley, Baker and our truly amazing team.