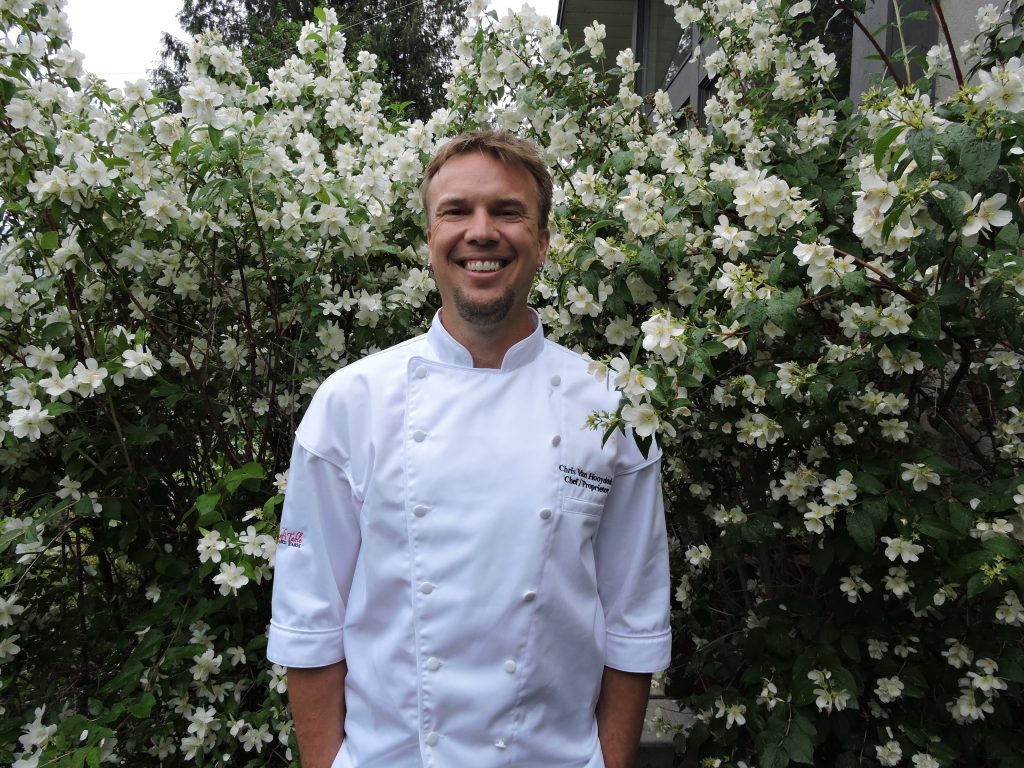 As we close the book on our 8th successful season, it is time for some much needed rest, family time and strategizing for things to come….The farm will sit "dormant" from January until March 1st.
The kitchen may be sitting idle for the most part, but I frankly just don't sit still for very long… We will be getting a few projects done as we anticipate our busiest season in our 8 years providing culinary experiences for our guests and clients. Aside from having dinner with the family every night, and storytime of course, the orchard pruning will commence shortly along with some refinishing and freshening up of the dining room. Frankly these projects are rather enjoyable, as it starts to set the tone for the startup, and always leads to some development and planning inspiration. The early spring will bring its fair share of work with planned ground crop expansion and prepping, rebuilding some well loved raised beds , with Mikkel already preparing to order seeds for this years bounty, the end results to be shared with clients through our tailored menus. Exciting times, as all this effort leads to delicious things!
As we move forward into our 9th season of business, we are incredibly grateful to see our calendar filling at an unprecedented pace. As of November, we finalized our peak season winery partnered events and we couldn't be more excited! The events page has just been updated reflecting many opportunities to enjoy a food and wine pairing event with our chosen partners, both onsite on occasion, and offsite set amidst some of the most amazing vineyard views in our beautiful region. We often have requests for smaller bookings, or group "joiners" for our tailored private culinary experiences, and this is a perfect way to experience our passion for food and wine culture in partnership with like minded winemakers and proprietors. Check out the events page for dates and contact the wineries directly for ticket pricing and availability.
And finally, we wanted to address one of the most often asked questions of the season. Indeed the last few seasons has had what we feel is some unnecessary stress, with our operational stance being questioned by the Regional District. We have remained quiet, while hiring a planning consultant to hopefully help us find a path to success. In the interest of due process, public intervention at this point was likely not going to be helpful. As of late in 2022, the RDOS board of directors had our application for non-farm use with the ALC on their desk to be voted upon, and a corporate vote came back unanimous in our favour. This being said, our future is in the hands of the Agriculture Land Commission to decide upon, and we are encouraged that the wealth of community and political support will see our humble family business continue for many years to come. We are setting precedent in regards to our unique agri-tourism model, but our hope is that a reasonable look into our "table to the farm" approach, paired with our interest in sustainability and supporting farm culture will finally put this to rest. It has come with financial burden, and stress within our family regarding the uncertainty, but we have concluded that it is best to put our heads down and continue on our path. It can be a lengthy process, but at this time we are able to continue our operations "business as usual". The wealth of support has been very humbling for us, as has the publicity we have acquired that shares the same message of our intentions in farming and business. We will be sure to keep you informed of the progression. As for the patio, we are 90% completed, while we await the doors to be mounted and a bit of planning for service efficiencies. We will keep you informed as spring approaches as far as our patio offerings for booking inquiries.
For the time being, my chef knives will take a back seat to orchard pruning gear. We can't tell you how excited we are to welcome guests back as of March 1st, for another amazing season. Please do not hesitate to reach out with booking inquiries sooner than later, as our peak season is filling quickly, with summer months already pretty much booked..We would love to see the shoulder season shrink! Although we will not be hosting guests until March 1st, we will most certainly be monitoring our emails in the interim.
From our entire family and team, thank you for your continued interest and support.
Chris, Mikkel, Baker, Ainsley, Kyle, Jovia and Team.