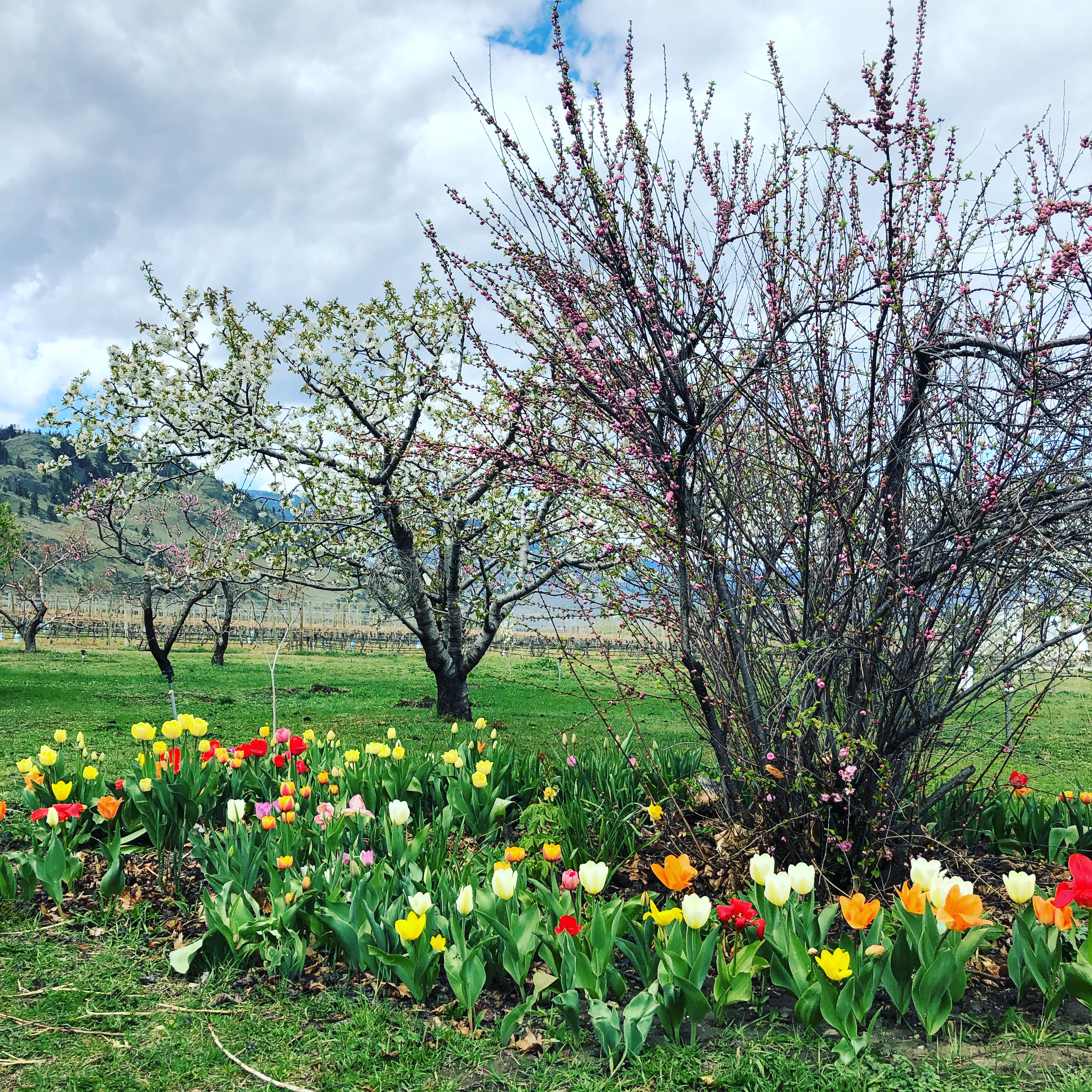 UPDATE! SOLD OUT FOR THIS WEEK!
Another beautiful day in paradise! We hope that the start of spring has helped distract from the current "situation", as a little sunshine and some beautiful flowers sure put a little "spring" in our step at the farm(this photo was taken this morning).We had a very busy last week, while the Cache Creek Beef Brisket was brining, and conquered many more tasks necessary for the growing season. Irrigation fixing(we call it our irritation system for a reason), the start of planting, making sure this place looks amazing with a little painting refresh.With cautious optimism,  we may hopefully see a few updated directives and a plan to let us,  our restaurant and hospitality friends and colleagues as well as our winery partners open their doors again to share experiences again soon! Better late than never, and we are in contact with interior health and monitoring the "plan" of our governing bodies to be able to strategize what adjustments and practices will need to be in place so we can open OUR doors, with open(yet distant) arms for our guests and clients.
In the interim, we would like to say thank you to all of you for supporting us as we made a decision to "pivot" short term, to be able to pay a few of our bills, support our family, Kyle(and now Max), and give me inspiration to be in the kitchen(and be distracted from the wealth of information, assumptions and speculations to process. Unprecedented times mean making decisions in order to keep us open and ready for the future, one which will obviously be far different than seasons past. We are so grateful for everyone who understands that a difference of opinion in a difficult and stressful situation is fine, but that the directives and suggestions are meant to minimize the risk of those at risk, and our system being overwhelmed along with the restrictions being prolonged-something that many of our peers may not be able to survive without all of our help, understanding, patience and consideration. Further to this, many of our clients have deferred their deposits for rescheduling, rather than outright cancelling-we cannot express how incredibly helpful this is for us, especially as a private, pre-booking facility, reliant on deposits as cashflow for the closure and startup months. As mentioned prior, we have adjusted our booking processes to reflect full refunds up to a week in advance, as things have changed quickly from week to week. We will honour our pricing and carrying over deposits for future bookings, even into next year. We will also keep our pricing and minimum the same into 2021. We really hope to have the ability to move forward, but want to be certain we are being responsible in our business decisions, reflective of what is best, safest and recommended for the health and safety of our guests, staff, future of our business, and of course family. We will be certain to keep all of you informed, likely through the website, aside for those with upcoming bookings in May, we will be in contact with you directly to discuss if we haven't already.
With all this in mind, we recognize the return to a new normal will be a careful one, likely also a slow one, and we are making some adjustments to reflect this. Growing more food! Heck yes. We have the space, and we want to have the ability to increase our production and minimize our losses from the start of this season. The benefit won't come until harvest season, but it's kind of like putting money in the "farm bank". Likely, we will be growing the best peaches ever this year(if mother nature is cooperative), and might even look at some exclusive farm gate sales. Also, pre-ordered Bagels and Handcrafted Sourdough Bread are something we are keen on expanding-with notice, but also entertaining having a day per week we bake away, and takeaway…In addition, looking at alternate weeks of simpler Picnic Black Boxes, to inspire a day outside(socially distanced and encouraging following advice from our governing bodies), with Artisan Charcuterie, Cheese, Spreads, our Breads and Crackers, House Pickled Veg, Candied Nuts. Think of it like a backpack of goodies to get outside and talk about all the things we can't wait to do when we are able(like lots of hugging and high fives). And now that another set of hands has joined us this season, and has finished quarantine, we may be looking at elevating our Black Boxes to reflect a monthly, bi-weekly pickup of scaled ingredients. These ingredients would correspond with a live video tutorial, with included recipes to be cooking along with me, with the ability to ask questions, and be engaged from a distance. Indeed I am an "ideas person", just want to gauge interest before we invest in the ideas, as our preference is to do what we built the business to do when we are able… Feel free to comment or send us ideas, feedback or inclusions to our Black Box offerings, as it is really great to see some ideas you may have!
In reference to the Black Box for this week, the menu is posted below. We have had a huge increase in our priority list, and also pre-commitments, and are selling out as I write this email…
-1 Loaf of 50% Whole Wheat "Plum" Sourdough Bread (Baked Fresh Friday Morning) from our 6 year old Italian Plum Starter
-1 Himrod Grape Sourdough Ciabatta Baguette, from our 2 year old Himrod Grape Starter
-Organic Forbidden Rice and Quinoa Crackers
 -Cabbage and Ambrosia Apple Slaw, Wildbrush Honey and Cider Vinaigrette.
 -Chickpea, Roasted Cauliflower Cucumber Salad, Curried Heirloom Yogurt
 -Asparagus, Leek and Potato Veloute(Soup)
 -Rossdown Farms Free Range Chicken Tortilla Soup, Corn Tortilla Crisp, Suggested Garnishes
-Firehall Brewery Stout Beer "Pit Beans"
 -Free Range Wild Boar and Wilted Organic Spinach Cannelloni, Handcrafted Pasta, Foraged Morel Mushroom and Celeriac Cream.
 -14 Day Brined, Charcoal and Cherrywood Smoked Cache Creek Beef Brisket, Backyard Farm Cherry BBQ Baste.
-Codfathers' Catch(to be confirmed), Potato and Smoked Road 17 Char Brandade, Peach Emulsion.
 -Spiced Ginger and Carrot Cake, Citrus Creamcheese
-Double Chocolate-Sundried Cherry Cookies
If you are interested in being put on the "List", please let us know and we will email you the menu prior to public release. At this time, we will continually adjust our process reflective of keeping it efficient. Thank you for being patient with us as we evolve our systems to reflect the demand vs. our supply-we just didn't design our kitchen to accommodate high volume production. We certainly are looking at increasing the availability where we can.
Thank you so very much for your interest in what we are doing. As with many of our peers, we are doing all we can to continue doing what we love, the way we love to do it. It takes your support to make this happen.
Chris, Mikkel, Ainsley, Baker, Mo, Kyle and Max.